Mets must make statement after Diaz injury
Is the World Baseball Classic worth the risk of sending your best players? I'm with Brandon Nimmo.
The New York Mets are collectively holding their breath this morning, waiting to hear the extent of Edwin Diaz' knee injury.
In case you missed it: Diaz was taken off the diamond in a wheelchair after he was injured during Team Puerto Rico's postgame celebration following a 5-2 win over the Dominican Republic.
MetsRewind is a reader-supported publication. To receive new posts and support my work, consider becoming a free or paid subscriber.
After the final out, Team Puerto Rico swarmed Diaz to celebrate the win. The next snapshot of Diaz was of him on the ground, motionless, holding his leg.
As I noted on Twitter Wednesday night: "This is what makes me anxious about Spring Training and the WBC. This one, especially. The injury happened during a celebration."
The World Baseball Classic is fun and exciting, but is it worth the risk of injury worth sending your best players (and investments) represent their homeland? I'm with Brandon Nimmo.
The Mets and winning a World Series is priority. Inserting yourself into scenarios that could potentially jeopordize those goals, is unwise.
Regardless of the extent of Diaz injury, if I were the Mets, I would request that Pete Alonso, Francisco Lindor, and Jeff McNeil be removed from the torunament and return to Port St. Lucie.
The risk is greater than the reward.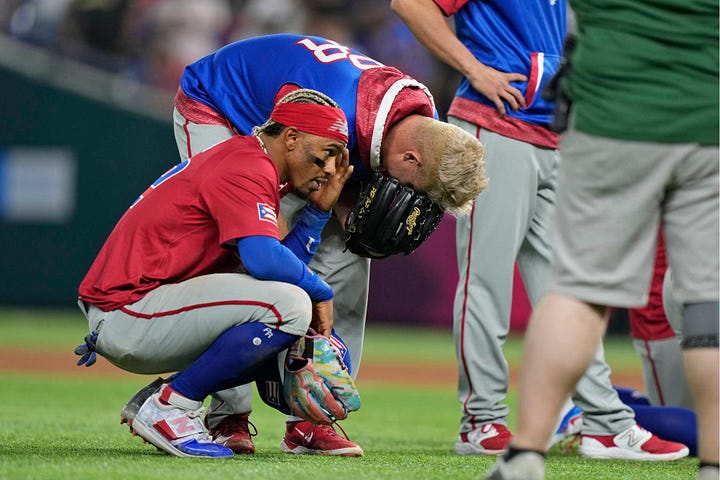 ---
Social Media Response: